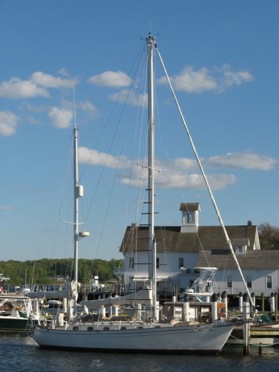 Aurora is a cutter-rigged ketch designed by renowned yacht designer Bob Perry, and built by the likewise renowned Taiwanese boatyard Ta Shing in 1982. It's one of only possibly three Baba 40 ketches that were made.
In April 2008, I was in San Francisco for a family gathering when I saw the new listing for Aurora in my daily internet check. I immediately called the broker with a barrage of questions and found out that I had competition, a guy who was on the scene and had already spent 4 hours inspecting the boat that day. I anxiously asked what he thought of it, and the broker replied that the man had liked the boat but wasn't convinced it was the right size for him....too small. I breathed a nervous sigh of relief, started some quick research, and made an offer a few days later. I ended up accepting the counter offer, which was still a good price.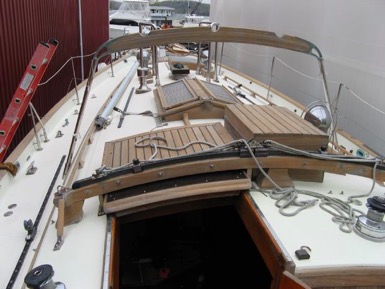 Initially, I travelled east to Essex, CT, where Aurora (originally "Gannet") had been in storage for several years. There's a saga behind it all, but the short story is that the boat yard where a lot of work was being done on the boat ended up owning her, and wanted to get rid of its white elephant. That's where I stepped in. I could see the potential in the boat and felt that once the yard put back everything that had been removed for rebuilding and upgrading, I would have a fine vessel. The downside was waiting for all the pieces to be put back together. That's where patience and living on the other end of the country (so I couldn't hover over the workers' shoulders and bug the crap out of them) paid off. The deal was set.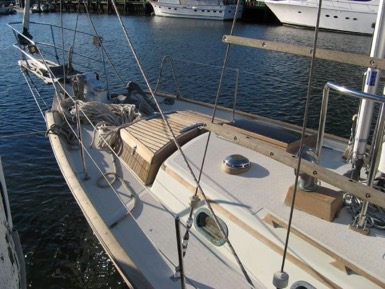 "Gannet" cleaned up nicely. The plan now is to head back to CT in late July/early August to outfit Aurora (renamed after the first boat we had when I was a kid), do some shakedown cruising around the Long Island Sound, and depending how things go, maybe mosey farther. Then, either truck her back to Seattle from CT, or sail to Annapolis (via New York City) from where she'll be staged home.
More pictures:
The Buying Stage:
•
On The Hard
and
On The Water
The Shakedown Cruise
- Fall '08:
•
Long Island Sound
•
Shipping Aurora to her new home
•
Arrival in Seattle
Links
Acknowledgements
Boat Blog
The Cruising Yacht SiteRing
Previous | List | Random | Join | Next